What are Google's Featured Snippets?
You conduct a Google search, and at the top of the page, you notice a block of content that presents a part of the page that you want to upload. What has Google done, and does it matter whether your web pages receive the same focused attention?
Since 2014, Google has added what the search engine giant calls snippets right above a select few search engine results. Also referred to as answer boxes, a snippet gives you a preview of what's to come inside of a website. Helpful, easy to click snippets can boost the amount of traffic a website receives. Because of its search engine-friendly nature, snippets have become a coveted digital marketing tactics for both SEO and online marketing consultants.
A More in Depth Look at a Snippet
Snippets are hard to miss. They sit just above all the search results at the top of a page. Google frames snippets like we frame our favorite photographs. The short amount of text can be a bulleted list or a paragraph that runs no more than 75 words. About two-thirds of snippets appear in paragraph form that presents an actual paragraph written inside the featured web page. Look at a snippet like movie goers look at movie previews.
A snippet gets you pumped up to learn more about a web page.
Do you have the capability to place a snippet above one of your web pages? The answer is no because Google determines whether a web page is worthy of a snippet. However, you can take four steps to give a web page a better chance of it landing a valuable Google featured snippet.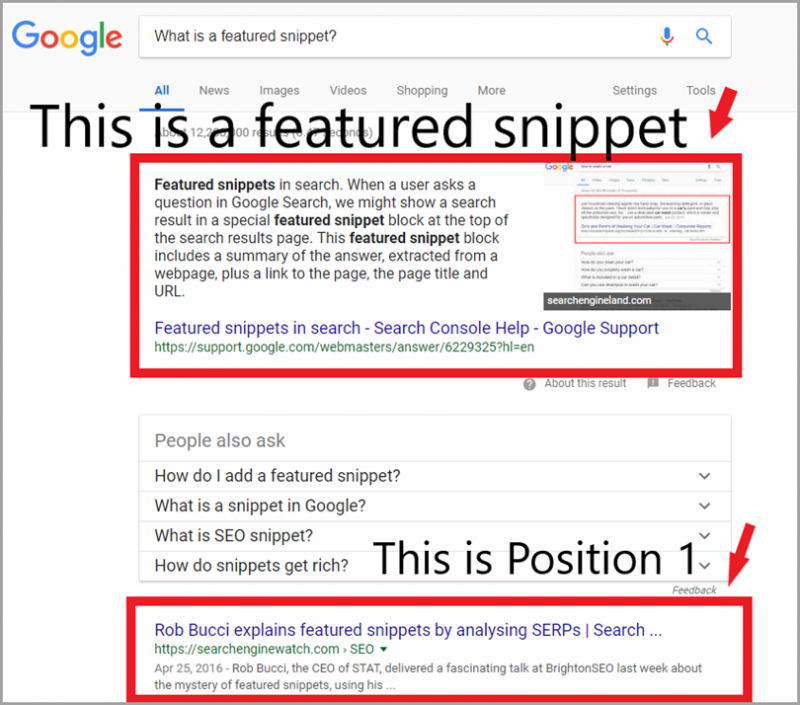 How to Get Your Web Pages in Google's Featured Snippets
By making a few simple adjustments to the content of a web page, you can attract the attention of Google's snippet team.
What are the Common Questions Asked by Your Customers?
Business operators know exactly what type of questions their customers ask. For achieving snippet status on Google, you want to answer broad questions on a web page, not just give yes and no answers to customer questions. For example, one frequent question a restaurant owner answers concerns describing the process for booking a large party. The answer to that question can appear in a Google snippet.
Make Sure the Questions are Unique
As a business owner, you conduct competitor research to see what works and what does not work within your industry. Apply the same competitor research mindset to a Google snippet. The last thing you want is to answer questions that are already featured in a snippet place above a competitor's web page. If a competitor has uploaded similar questions, check to see if your answers do a better job of answering the questions.
Write the Answer Using Your Own Snippet Style
Google has not established a method for writing the perfect snippet. It is up to you to answer customer questions using a unique style that the search engine giant notices. Make sure the answers to customer questions are clear, concise, and informative. Use plain language instead of loading a potential snippet with industry jargon. For instance, mentioning a restaurant service phrase called "In the weeds," which describes an employee falling behind on the job, does not appeal to customers that want real answers to frequently asked questions.
Format the Answer on Your Website
Google has not written a book on how to write the perfect snippet. However, here are a few tips for formatting a snippet that should get Google to notice it.
Use headings
Match each heading to the topic of a question
Maximize the SEO benefit of images and captions
Add no more than three answers
Create a FAQ page to upload the answers to customer questions
There is not a science to creating Google featured snippets. It is simply a trial and error process that when done right, can boost one of your web pages to the top of a Google search engine results page.